Last year I rode the inaugural Mt. Laguna Bicycle Classic down in San Diego County. The route is tough and when you get beat by the route you make plans to do better. Which I have. I've been riding harder and smarter for the past year. Last year I rode my Salsa Casseroll and it would've made sense to bring a lighter bike this year. That's too easy right! Right?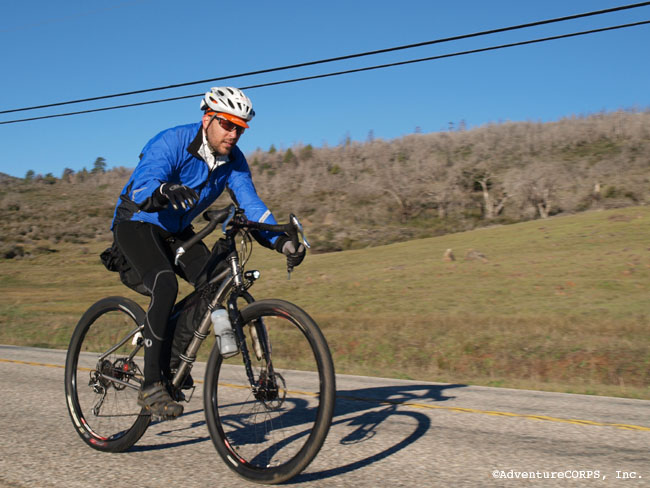 I, of course, rode the Salsa Fargo. It seemed like a good idea at the time. You know, riding 100 miles with 10k of elevation might be something that I should try out. Earlier in the week I double flatted my tubeless tire setup and had to make changes. Mismatched tires and tubes were fitted to the bike so that it was rideable. I chose to carry two extra tubes and one extra tire. Crazy? Maybe, but most of the riders would be riding 20lb bikes with thin tires. So I knew I'd be out of luck if I needed a spare tire. For the event, with water, the Fargo weighed in at 38lbs! Damn, that's like towing a carbon fibre bike behind me all day long!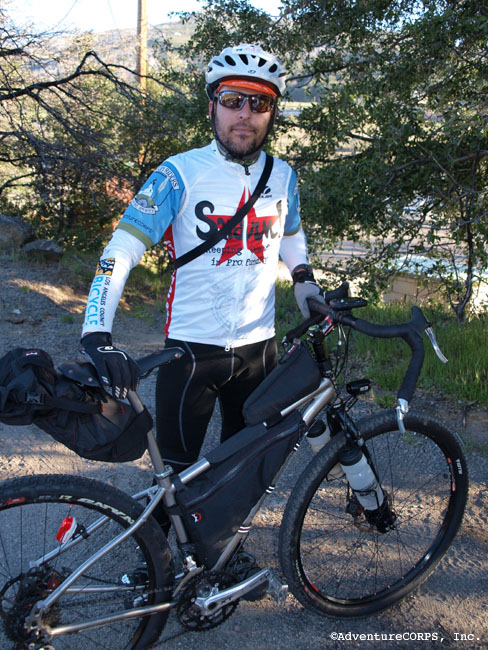 Right away I felt the weight of the bike and tread of the dual sport tires working against me. Getting passed was the order of the day. I don't think I made ground on anybody all day long. Just pick a comfortable gear and spin. You'll get to the top eventually. When I was suffering on the climbs I thought about Jim Swarzman. I remember seeing him on the 200k racing down the coast on a mountain bike, while everyone else was on a road bike. He helped to keep me going.
I had the pleasure of riding with Ed Shepard for a while and we chatted about different rides. He was out there to celebrate his 63rd birthday (on Sunday actually) by riding Mt. Laguna. He told me he'd completed all three loops the prior year in 11 hours. I thought that'd be a good goal, so I aimed for that.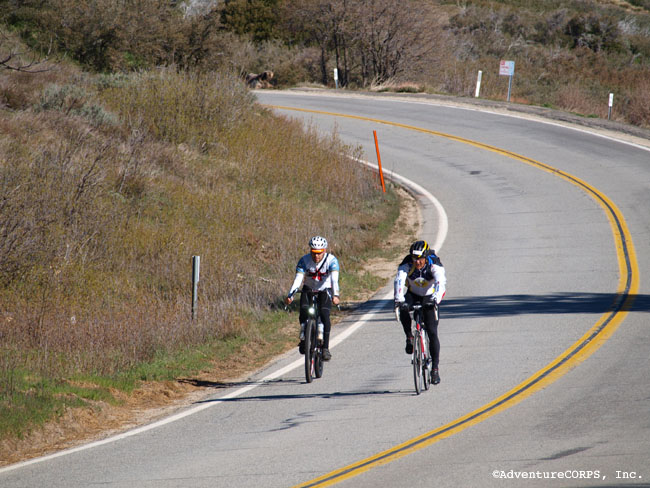 With loop number one down I started the fast descent to the 80. I really enjoyed that descent and passed a couple riders, who then quickly passed me again once the road flattened out. One nice thing about the heavy bike is how fast it falls downhill!
The second loop was tougher than I remembered it from last year. I was really hurting by the time I got up to the checkpoint. I had seen Vassily on his Salsa Chili Con Crosso a couple times during the first loop, but I was surprised to be so close to him at this point. I was sure he was much farther ahead. After the checkpoint I caught him and we rode together for a little while before he dropped me again. For a while we discussed the reality of completing the third loop. I was ready to be done by that point and was tired of hauling my beast up and down the damn mountain! Nothing like a fun descent to recharge with though. I decided to give it a shot.
Right away I knew I was in for it. Starting the third loop with 80 miles in my legs already was tough. It didn't take much of an incline to get the heart rate up, and I knew there were grades of 15-20% coming up. I rode up as far as I could. Stopping to take breaks in the shade here and there. Eventually a group of us tired riders formed. Alternating resting and walking our way up the hill. One of the riders, Roy, was able to ride all of it. At least I think he did. Riding as far as he could, then resting briefly and repeating. All on a compact crank! Me, I just walked. Better to keep moving forward, even at a snail's pace. In time we made our way up the steep grade and to the summit. Motivational posters keeping us company all the way.
Look closely and you can see a rider on the road below.

Was it suffering? Yeah, it was. I made it through though, and that was a confidence builder. It would've been much easier to finish the ride after two loops. With the bike I was riding, I don't think anyone would've blamed me. The fact that I didn't bail, and kept going makes me feel really good though. I was able to get through it all. Next year though, I might have to get smart and ride it on a carbon bike. Yeah right! Next year a snow bike!
Huge thanks to Chris Kostman, AdventureCorps and all the volunteers out there!