Last week I asked Serbrina if she'd be cool with me heading down to San Diego to ride the Mt. Laguna Bicycle Classic. The weekend before we were down in San Diego for the Handmade Bicycle Show, so I wasn't sure if I wanted to drive down there again. I figured I'd leave it up to her, and if she said no, I'd skip it, but she's awesome and she said "sure, why not?"
This was a first time event, with 10,000 feet of climbing over 101 miles. The route was made up of 3 loops that climb up to Mt. Laguna. Each loop would get shorter and steeper. The nice thing was that after every loop you were near the start so if you wanted to continue or not, it was an easy decision. After looking at the profile, it looked like if I rode 2 loops, it would be similar to the amount of climbing and miles that I rode at the Hell's Gate Hundred. So I thought I'd ride 2 loops and try to beat my time from the HGH. Here's the profile.


I didn't want to spend the night down in San Diego, so the plan was to drive down early Saturday morning. This seemed like a good idea at the time, but it made for a more difficult day. I prepped my bike and gear on Friday night, and made it to bed by 9:30pm.
2:30am and I was up and getting dressed. I loaded a sleepy Serbrina in the truck and we drove to her parents house. She would spend the day with them, while I rode the event. Here's where things started to go awry. I decided to take a different route, a straighter route, but one more prone to traffic. There shouldn't be any traffic though right? It's 3:30am! WRONG! Police had one intersection blocked, so a detour. Next freeway interchange road work, another detour. Then the freeway is getting worked on, so it's down to ONE LANE! You wouldn't believe how many people were on the freeway that early. Stop and go traffic when there should've been none, made a drive that should've taken 40 mins take over an hour!
I dropped Serbrina off and then drove the next 2 hours alone, and in the dark. I was tired, and it wasn't long before the mental games started. Negative thoughts began running through my head. "Turn around", "Go back to bed", "What are you doing?", "Are you crazy?". l fought the negative thoughts the entire drive. I knew if I could just get to the start and on the bike I'd feel better . . .right?
Finally in Pine Valley, a quick sign in, and I get the bike unloaded and ready. I managed to arrive before 6am, but somehow it's 6:35 before I'm on the bike and at the start. The last wave rolls out at 6:40 into the cold mountains. I forgot my full-fingered gloves and the first descent has my fingers numb. The freezing cold is hard to fight. I have a hard time shifting the gears, but in time the sun comes out and thaws me out.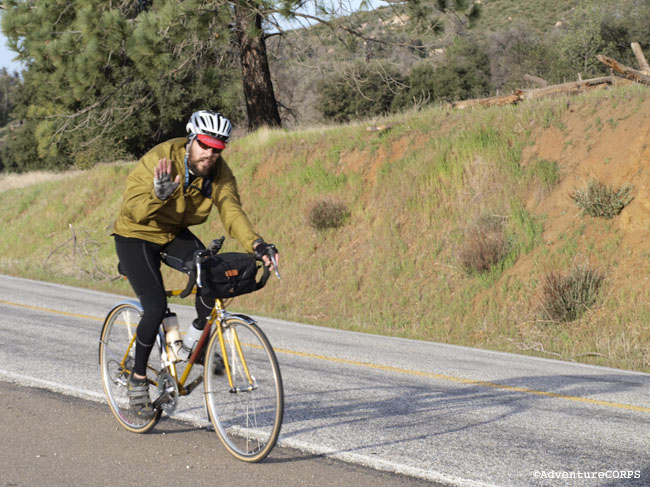 (Photo courtesy Adventurecorps.com)
Almost immediately I'm by myself. Alone again. So I just ride at my own pace, getting passed some and passing some. I'm feeling good and now that I'm warming up I start to enjoy the ride. I've never been down in this area of San Diego before and I'm really enjoying the scenery.

After the climbing started I shed my jacket and just pedaled and pedaled. The road was windy, perfect for motorcycling, but I wasn't there with the KTM. I was there with only my Casseroll and my legs to get me to the top. I'll have to return and explore these roads with some moto power. After every turn, and over every rise was another scenic vista. I knew that I couldn't capture them all, but I stopped here and there to share the views, while on my way up to Mt. Laguna.

After a couple hours of climbing I make it to the top of Mt. Laguna for the first loop. After a quick stop at the next rest stop it's time for the 10 mile descent.

I had been thinking while climbing the first loop about bailing out and just heading home. I fight the negative thoughts all the way down the mountain. I don't know why I have such a hard time with them. I think I'm capable of completing a ride like this. No, I know it, but there is something in my head that always works against me. Somehow, when the time comes to turn right for home, I keep going straight for loop two. I'm riding alone, which doesn't help the mental games, but I just push on.
I'm down by Campo, not too far from the Mexican border, so there are Border Patrol cars everywhere. The scenery however is just as good as before.

I had been riding by myself for a while, and for a little bit I thought I had taken a wrong turn. Then I saw the road climbing ahead of me, and the people. Everyone is bunched up on the climb. Here on Kitchen Creek I see Darren. We had emailed earlier in the week about the ride. We missed each other at the start, but now we're on the climb together. We ride together for a little while and then I push on ahead. Right when I'm taking this picture Chris Kostman pulls up and says "Ride now, Blog Later!". That's the challenge I guess. Take time to share the adventure, or just push and push? I haven't found that balance yet. I want to go faster, but I want to take pictures. Gotta be one or the other.

The road is relentless. Past the control point cars are not allowed. There's about 6 miles or so of climbing a narrow road with no traffic. It's tough, but it's the highlight of this ride for me.

Most of the climb I'm by myself, but there are 2 riders ahead of me. I try to keep them in my sights. Throughout the day I'd been trying my best to stay out of the triple chainring. There were times when I needed it, but I was surprising myself, because there were times that I didn't. It felt great knowing that I was able to do most of the climbing in the middle chainring. Sometimes they would get out of view, but then I'd reel them back in. It seemed to go on like this forever, but at the top, we roll out to Sunrise Highway together. For me, a real sign of improvement.
The 10 mile descent is even more fun the second time around. I make it back to the start 7 hours after I left. Not fast by any means, but a whole hour faster than I was expecting to do it. I decide against doing the 3rd loop, those mental demons win out again. Damn. Sitting here now I know I could've done it, but it's too late now. I've got to work on that. I know my pace is increasing and my legs are getting stronger, but they are no match for my head it seems.
The good people at Adventurecorps have a ton of food and drink at the park so I hang out for a while relaxing. I get to meet and chat with Matt and another rider from BikeSwarm (sorry, I didn't get his name). They told me how fast they did the entire loop and I'm in awe. These riders are at a whole 'nother level. I'm not sure how to get there, and it's been keeping me up at night. Basically, they did the entire ride at least an hour faster than I did just my 2 loops! Insane.
Darren and I at the finish.

Here is the profile and stats for my ride. 6500 feet of climbing in 75 miles. Average speed 10.7 mph.
I finished the day with a long drive back to Corona to get Serbrina, and then she does me a solid and drives home from there. By 7pm, we're back at home. 16 hours after we left. What a great day. I can't wait to do it again!
Much thanks to Chris Kostman and all his volunteers for putting on a great ride. I'll be back next year, ready for all 3 loops!